Personal Trainer and Private Training Studio
Looking for an experienced certified personal trainer who can help you reach your health and fitness goals on your terms? Looking for a gym where you can work out privately - without distractions or judgment? Welcome to Chad Pines Personal Training Studio! Here, you'll enjoy...
- Personalized -
Workouts
Workouts are designed around your individual needs to help you reach your goals at a pace that works for you. Whether you're looking to push hard or just stay in shape, you'll get the right workout and the right amount of motivation from a renowned ACE-certified personal trainer.
- Private -
Gym
Ditch the crowd and enjoy total privacy at our spacious, fully-equipped fitness studio, conveniently located on the Carlisle Pike in Mechanicsburg. It's just you and Chad, your very own personal trainer and wellness coach, focusing on your goals with zero distractions.
- Concierge -
FITNESS
You don't have to sweat the small stuff here. Forget about setting up or wiping down equipment, figuring out what's next, or how many reps. We take care of everything, we're with you at every step, and we help you manage your overall wellness.
WHAT CLIENTS ARE SAYING
"I've been training with Chad for over 15 years. At 75, maintaining my health and fitness is a top priority. Especially since I have a 15-year-old who demands a lot of my energy. Chad has helped me stay committed to my health and well-being. He's helped me maintain my strength and physical fitness which has enabled me to live an active lifestyle while continuing to work as a Periodontist."
Dr. Marvin Berger, President, Associated Periodontists
"We have been using Chad for over 15 years to help mentor our coworkers regarding their personal health and the importance of healthier lifestyles. His passion, knowledge, and guidance has been invaluable to our team and plays into the culture we strive for at Daflure and our other companies. Chad is and will continue to be a valuable resource to us and others who care about people and want to promote healthier lifestyles."
Justin McClure, President, David F. McClure Group of Companies
"Chad has been my Fitness Trainer for almost two years. The combination of his diverse training methods and individualized exercise programs have given me wonderful results. I've experienced improved energy levels and my body has become stronger & more flexible. He has definitely helped me set the foundation to a healthier lifestyle!"
Dr. Ana Golalic, Owner/Operator Carlisle Dental Studio
"Chad has been an invaluable Health & Wellness resource for me and my employees at Innovative Financial Group. His knowledge and experience enable our team to stay focused and committed to incorporating wellness into our weekly routine. I would highly recommend his services to any group looking at creating a culture of health and well-being."
Tyler Rees, CEO, Innovative Financial Group
"The decision to contact Chad Pines has been a life changer for me. As a busy mom, wife and business owner, I decided to make a personal commitment to myself and become more proactive in my overall well-being. With Chad's coaching, training and encouragement I have far exceeded my goals in regard to my health and fitness, and have since implemented a corporate wellness program into my business. Chad has been a valuable resource in educating and assisting my team in promoting a healthy lifestyle both physically and mentally, and I highly recommend his services to anyone seeking a proactive approach when it comes to overall wellness."
Tammy Smith, President, All Pro Trailer Superstore, Inc.
"I've been training with Chad for over 13 years. At 72 I feel that I am in better shape than I was at 58. Thanks to Chad Pines! I've worked with Chad privately as well as in small group settings of family members, friends, and coworkers who have also committed to Chad's coaching and training. Chad's program and his knowledge has always impressed me. Nothing is ever static! Chad continues to study, research fitness trends, and incorporate only the best and safest, into his training program. With Chad's guidance, encouragement, and positive attitude I have been able to maintain a very active lifestyle. My fitness level has not deteriorated with age, but has allowed me to continue teaching aerobic fitness classes twice a week and participating in competitive running events. With Chad's interval training techniques, I was able to finish first in my age group in my last two runs. Without a doubt, Chad Pines is the best fitness and wellness coach, bar none! I highly recommend his services to anyone committed to a healthier, active lifestyle, regardless of age!"
Sandy Cronin, Franchise Owner, Jacki Sorensen's Aerobic Dancing
"I have been training with Chad since January 2018 and with his expertise and knowledge I have been successful with my weight loss goals. In a year I've lost upwards of 25 pounds. I am so happy and full of confidence and will never regret the decision to join his team! He really knows the science behind exercise and I recommend him to all of my patients and friends who are seriously looking to enter into an excellent regimen of exercise."
Dr. Danette J. Joseph, MD -Medical Director Urgent Care
"For the last 20 years Chad has been a health & fitness mainstay for my family and me. Exercise is a cornerstone to my family's physical and emotional well-being. Chad's knowledge, experience, and commitment to keeping up with the latest wellness trends and studies set him apart in the health and wellness industry. I'm a 65 years old anesthesiologist with a very hectic work schedule; my wife & I meet with Chad weekly and rely on him to keep us up-to-date, motivated and informed. It's one of the most enjoyable hours of our week! In addition to regular total body strength, cardiovascular & balance training, Chad has helped me recover from & prevent future injuries. I would highly recommend his services to anyone interested in living both healthier & longer!"
Dr. Leslie Packer, MD – President, Packer Anesthesia Corporation
- Workouts Designed for -
YOU
Personal Training for Professionals
Discover efficient, results-driven workouts tailored for busy professionals. Experience the power of fitness that aligns with your dynamic lifestyle.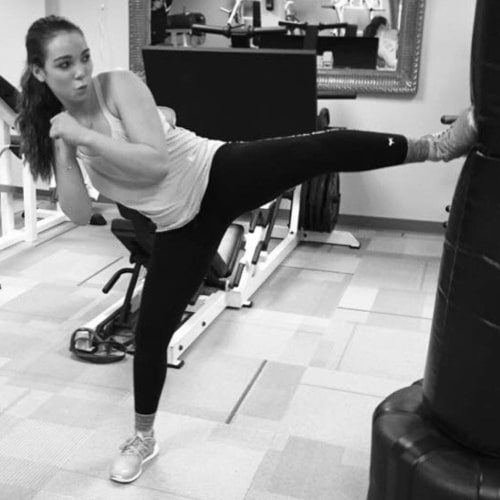 Personal Training for Student Athletes
Unlock your athletic prowess with tailored personal training programs that maximize performance and minimize injury risks. Experience a transformative approach to fitness that elevates your game.
Personal Training for Seniors
Sustain your strength and stamina safely. Our programs are designed to promote fitness without the risk of overexertion or injury, catering specifically to seniors.
Personal Training for Moms
Energize your routine with workouts crafted to uplift and invigorate. Designed for moms, these sessions boost energy and enhance overall well-being.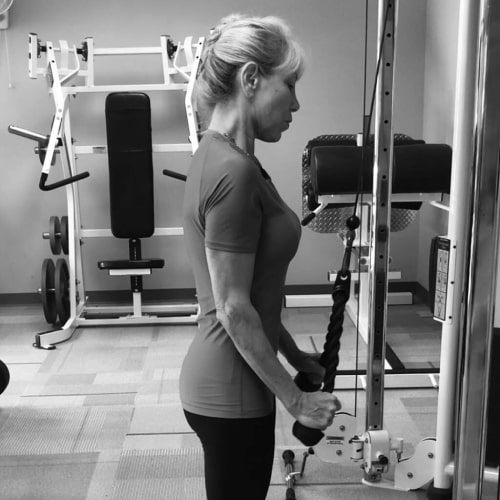 Personal Training for Business Owners
Elevate performance for yourself or your team with training designed to boost energy and sharpen focus. Experience the benefits of fitness tailored for business professionals.
Personal Training for Retirees
Enhance your retirement experience with a fitness routine that keeps you agile and mentally sharp. Enjoy a fulfilling, active lifestyle tailored to your needs.
Fitness and nutrition isn't just about
losing pounds or staying in shape.
It's a lifestyle choice
that helps you to be the best version of yourself;
physically, mentally and emotionally.
Your Own Private Personal Trainer
Chad Pines Personal Training Studio is a unique one-on-one personal training studio - not a gym. Our focus is on you, the individual - not the masses. Whether you're a busy professional, a student-athlete, a retiree, or somewhere in between, you deserve a personal fitness program that is truly personal. Here, you'll enjoy fully customized workouts that account for your physical condition, goals, motivation, and much more. And you'll enjoy them in a clean, open, fully-equipped private training studio while being guided every step of the way.
Our one-on-one atmosphere provides private, individualized instruction, allowing our clients to feel more relaxed and comfortable. It also helps to ensure proper technique and safety. Plus, everything is monitored and tracked to help you achieve your goals. So whether you're seeking a total body transformation or want to stay in shape, you'll get the attention and expertise you deserve!
Each training session is by appointment, and includes total body strength training and cardiovascular interval program. Using innovative and creative techniques, your workouts will always feel fresh, challenging, and stress-relieving. If you're looking for the best personal trainer in Central Pennsylvania, including personal trainer personal trainer Harrisburg, PA, personal trainer Camp Hill, PA, personal trainer Carlisle, PA, personal trainer Mechanicsburg, PA or personal trainer Hershey, PA, then Chad Pines and our team the Chad Pines Personal Training Studio is the place for you! Contact us to learn more about signing up with us.
White Glove Treatment
While you're here, forget about everything. All of it. Just focus on you. When you workout at Chad Pines Personal Training Studio, you won't need to figure out which exercises to do, or how to do them properly, or how many reps. You don't even need to set up equipment or wipe it down after you use it. Everything is done for you, and you're guided every step of the way. When you're here, it's all about you.
Cardio Training
Strength Training
Weight Loss
Flexibility
Overall Health and Fitness
30-Minute One-On-One
Personal Training
Cardio & Strength Training
50-Minute One-On-One
Pilates Reformer Session
Focus on Strength & Flexibility
Meet Chad Pines
- Certified Personal Trainer -
As a highly sought after private personal trainer and fitness expert, Chad meets individually with hundreds of clients on a monthly basis. He works one-on-one with each client putting them through body sculpting, fat burning, & functional workouts geared towards attaining and maintaining long-term healthy lifestyle goals. He has a diverse clientele that includes: professional athletes, models, doctors, nurses, business executives, and stay-at-home moms - to name a few.
Chad has made numerous appearances on QVC with his own products and as a fitness expert for The Total Gym. In addition, Chad has been featured in Exercise for Men Only Magazine as one of America's top fitness trainers and was the host & fitness expert for ONE GYM's 30 minute infomercial, which was nominated by the Electronic Retail Association as one of 2005's best new products.